Baccarat
Royal stemware sets in glass
The history of the development of Baccarat extends back to 1764, when King Louis XV granted permission for the founding of a glass factory in the small town of Baccarat in eastern France. At the start, the factory made windowpanes, mirrors and stemware. When production of crystal was started in 1816, there were already more than 3,000 people employed at the Baccarat site.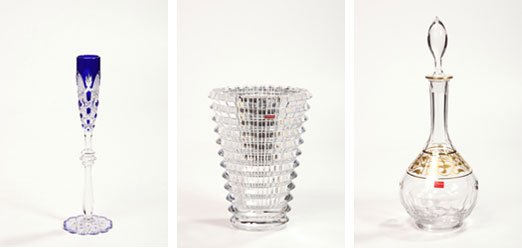 The first royal delivery of crystal, to King Louis XVIII in 1823, triggered a chain reaction. Heads of state all over the world suddenly wanted to have crystal and glasswork from Baccarat. At that time, the range of products primarily consisted of stemware, candelabras, carafes, and of course perfume bottles. Indeed, the latter category became one of Baccarat's most important products, and in 1907 the factory achieved a production of 4,000 bottles per day.

The company now has branches in Asia and the USA. Recently, a number of jewellery collections were also added to the product line.
Have a look at our Baccarat collection